I'm so excited to be sharing my experiences of my first year at Longwood! It took me awhile to figure out what I wanted to write about because of all of the wonderful experiences I have already had during my first few days.
The first full day at Longwood, I was part of New Lancer Days, an activity that helps you meet fellow students and a peer mentor to help you through your first year. My favorite activity was the pep rally. It was a moment when the entire Class of 2023 was in the same room. Seeing so many friendly faces was what made that day so special.
At Longwood, freshmen sign up for coaching groups that are led by a peer mentor and university staff. My peer mentor, Lauren (in the bright green shirt in the photo above with our coaching group), told me about how the first few days at Longwood are so important and how wonderful it is to have a group of friends you already know. I now know I have people I can turn to if I ever need help with anything, and that is something I will never take for granted.
Moving into my dorm was very exciting as well, thanks to the help of the upperclassmen. My family and I pulled up to my hall, and they came rushing over to help us move in. It was such an inviting experience, and I'm looking forward to being a part of that next year.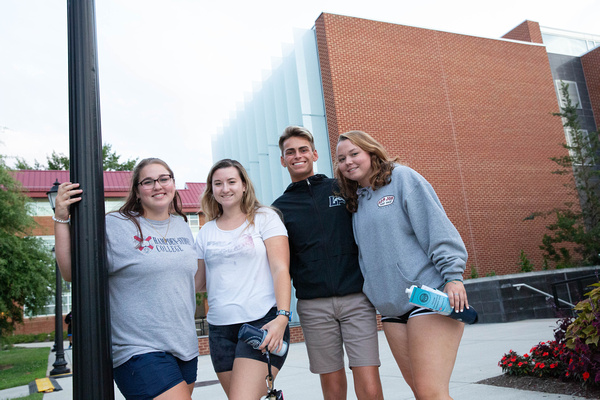 My roommate and suitemates have been so helpful with moving in, and I love them for that. I first met my roommate and suitemates online. When I met them in person, it was so reassuring to learn all the similarities we share.
It is especially reassuring that I have known one of my suitemates since high school. I feel very privileged to share a dorm with her. We had a lot of fun at the late-night New Lancer Days event with a mini golf course, two inflatables, lawn games and more!
I'm looking forward to all my experiences at Longwood, and I'm so proud of everything I have been a part of so far.
Comments