Over the past few days I have felt many emotions. Here are a few:
Sadness over leaving my pets behind (and my family, of course, but they know where I am and how to work a phone)
Excitement about what's to come
Nervousness about the first day of classes
But let me tell you one continuous feeling I have had this whole college experience so far. Hunger. I truly don't think I have ever wanted real food more in my life.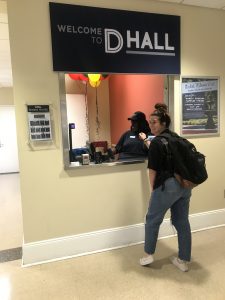 What I miss most about the food at home is a restaurant called Don Pepe—where my favorite dish is the shrimp chimichangas!—and just a home-cooked meal. I especially miss the huge brunch my dad makes every Sunday after church.
Sure, we have D-Hall, but let's be honest here—it's D-Hall food. Although, if you ever get a chance to try the tortellini and the grilled cheese, you won't be too disappointed. I should know. I have had both for lunch and dinner more than once already.
Comments